Hokkaido milk is good quality and delicious is the image that everyone has.
We are pursuing a taste that brings out the potential of Hokkaido milk,
a taste that allows you to feel the solid taste of milk, but has a refreshing aftertaste that makes you want to eat more and more.
There are many flavors in the market that are both rich and sweet.
There are still few ice creams that combine
the three characteristics of milk flavor, elegant sweetness, and smooth texture.
Our goal is to master this taste.
A flexible development system that pursues taste by ascertaining the quality of each product by hand.We make full use of manufacturing equipment manufactured by
Carpigiani,
the industry's top manufacturer, and are particular about
chewy texture and smoothness of our ice cream.
If you are a company that wants to create original products using our ice cream, please try our ice cream.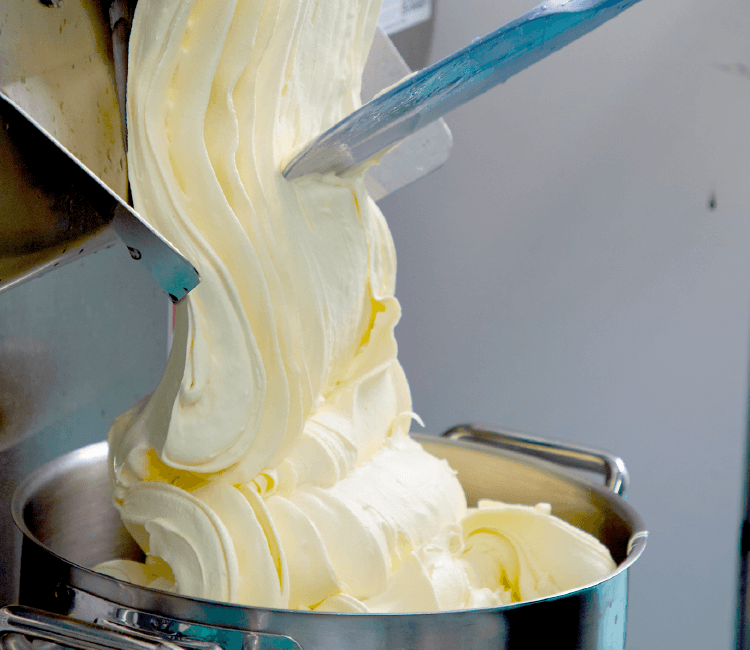 研究員の姉妹おすすめセレクション 9種類

PINKY PINK ICE 6種 6個セット

金雪シリーズカップアイス10種10個セット

アイスクリームごろっとアイス 5種セット

タルトアイス 4種セット

金雪のクリーミィアイス ピスタチオ

金雪のクリーミィアイス シャインマスカット

金雪のクリーミィアイス ミルク杏仁

The basic ingredients for ice cream, such as milk and butter, are from Hokkaido.
Hand-made and consistent quality
Negotiable for production quantity
Wide variety, high quality, reasonable price, customer-oriented product creation

Knead the mixed ingredients in a spiral.It is a feature of Carpigiani that this powerful process of kneading is included.By hardening while kneading, the ice cream itself has a chewy texture.
The ice crystals generated during the process of kneading the ice cream are crushed long and finely, so the ice particles are smaller than ordinary machines, resulting in a smooth texture.
pasteurizer

PASTOMASTER 60XPL/P

【Made by Carpigiani】

pasteurizer

PASTOMASTER 120XPL/P

【Made by Carpigiani】

batch freezer

LABO 2060 XPL/P

【Made by Carpigiani】

filling machine

RX02EC+RU02

【Made by NAOMI】

filling machine

RD703-W+DU01

【Made by NAOMI】

blastchiller and
shock freezer

EF-45.1

【Made by FMI】
refrigerator

double sink

Work table with drawer

digital platform scale

work table

shelf

refrigerator

double sink

Electrolyzed water generator

Work table with drawer

refrigerator

freezer

work table

cabinet table

manual capping machine

moving table

one tank sink

work table

hand washing sink

refrigerator

freezer

Work table with drawer

impulse sealer

shelf

work table

prefabricated freezer
Capable of manufacturing more than 5,000 units per day in two shifts